Welcome to Personal Development
Personal Development
Personal Development
All schools must provide their students with a broad and balanced curriculum that meets the needs of all students. Personal Development gives students the opportunity to explore a wide variety of topics that are important to them on a local, national and international scale. Students are taught these topics in tutorial sessions.All students have 50 minutes a week focused on our personal develop curriculum.
Students at Meden are taught lessons on relationships and sex education, fundamental British values, citizenship, as well as careers and personal finance. The purpose of the Personal Development programme is to develop students' confidence in discussing a wide range of topics/issues, as well as developing their understanding of healthy and unhealthy relationships to support emotional wellbeing.
Curriculum map KS3 & KS4 (click to enlarge)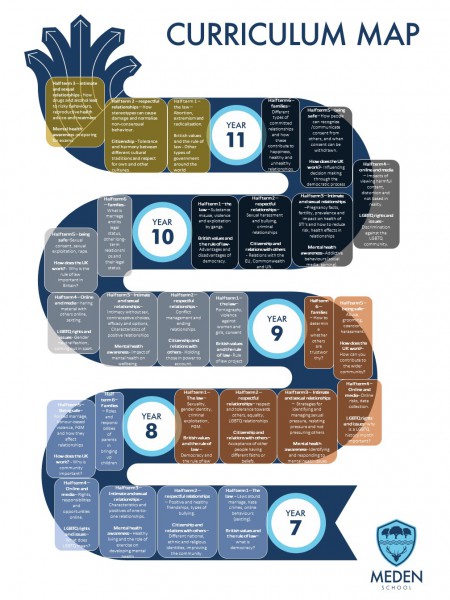 To see the plan in full details please click on the link below.
Details of Curriculum map for KS3 and KS4
Curriculum map KS5 (click to enlarge)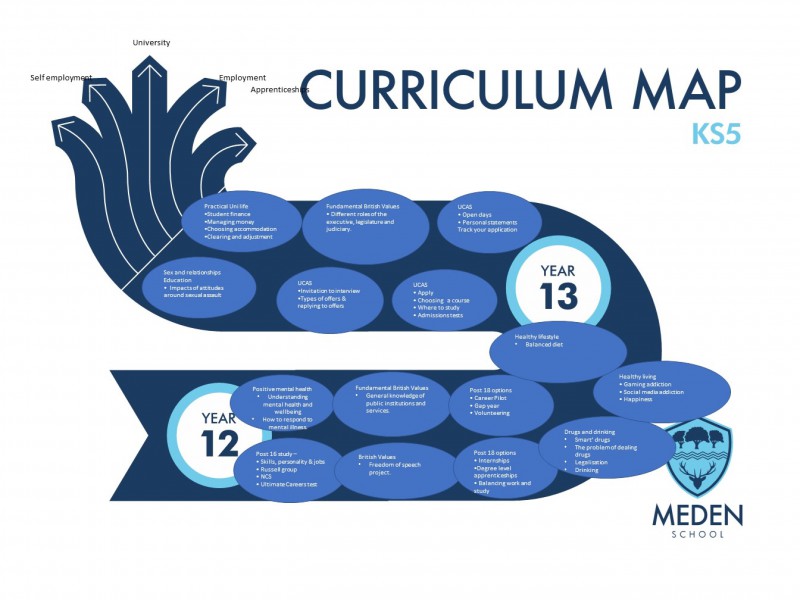 To see the plan in full details please click on the link below.
Details of Curriculum map for KS5
Relationships and Sex Education
Relationship and Sex Education Policy
The government have released new guidelines for the teaching of relationships and sex education (RSE) in secondary schools (hyperlink below). This guidance came into effect in September 2020 (need to check this is the most up to date guidance). The topics chosen for Meden students are all age appropriate for the different year groups.
For example, in Year 7, the RSE topics are good communication, emotions and growing up as well as developing an understanding of what cyber bullying, sexting and online grooming is.
In Year 10 and 11, there is more focus on healthy and unhealthy relationships, as well as how the media portray relationships and the impact this can have on our own relationships. Furthermore, students will also study LGBTQ issues, STI's and contraception during Year 10.
https://assets.publishing.service.gov.uk/government/uploads/system/uploads/attachment_data/file/908013/Relationships_Education__Relationships_and_Sex_Education__RSE__and_Health_Education.pdf
The aim with the new RSE topics is to develop students understanding around relationships and the benefits of healthy and happy relationships to their mental health and well-being, as well as being able to spot the signs of unhealthy relationships and how to avoid them.' (Relationships Education, Relationships and Sex Education (RSE) and Health Education Statutory guidance for governing bodies, proprietors, head teachers, principals, senior leadership teams, teachers.)
Parents do have the right to withdraw their child from all or some of the RSE lessons. Parents, in the first instance, should contact Mr Bentley to arrange a meeting to discuss the withdrawal of their child from RSE lessons.
Citizenship
We have included some new topics on citizenship for 2021 to help our students develop a wider understanding of local, national and international issues. We felt that this was important for students at Meden to develop their understanding of the wider world and Britain's relationship with it.
Some of the topics that have been chosen to develop a wider understanding of the aforementioned issues are:
The study of different national, ethnic and religious identities (which will complement the new RE curriculum for KS3 and KS4 in Humanities) in Year 7. In Year 8 students will study the UK's relationship with the EU, the Commonwealth and the UN. And lastly, in Year 9, students will look at holding those in power to account.
Fundamental British values
We have also introduced new topics linked to British Values that will develop understanding of democracy, rule of law, individual liberties and mutual respect and tolerance. All incredibly important topics in our ever-changing world.
These topics include; what does it mean to be British? Understanding our own and other cultures, what is democracy, the positives and negatives of democracy and other ways of governing. These topics are designed to develop students' knowledge of the fundamental British values that will be necessary for them to become well rounded and valuable members of society when they leave Meden School.
May 2022
| M | T | W | T | F | WE |
| --- | --- | --- | --- | --- | --- |
| | | | | | 1 |
| 2 | 3 | 4 | 5 | 6 | 7 |
| 9 | 10 | 11 | 12 | 13 | 14 |
| 16 | 17 | 18 | 19 | 20 | 21 |
| 23 | 24 | 25 | 26 | 27 | 28 |
| 30 | 31 | | | | |