Welcome to Personal Development
Personal Development
Personal Development
At Meden School Personal Development gives ours students the opportunity to explore a wide variety of topics that are important to them on a local, national and international scale. Students are taught these topics in tutorial sessions. All students have 70 minutes a week (2 x 35min sessions) focused on our personal develop curriculum.
What have the students been studying this last half term?
Our Personal Development Curriculum encompasses the following (Please see side menu for more details):
SMSC
Citizenship
Core British Values
RSHE
PSHE
Financial Education
At Meden School, our Personal Development curriculum underpins our school values of aspiration, excellence, and achieve. Our ambition is to develop students who understand how to be safe and happy, whilst also appreciating the challenges of the world around them. This includes challenging misconceptions, stereotypes and inequalities of the wider world. Students will become confident in their own voice by using oracy strategies which are embedded into the Personal Development curriculum. ​
Our Personal Development lessons teach our students core knowledge and understanding that will allow them to live healthy, fulfilled lives. The lessons have been sequenced as such to develop student knowledge throughout all key stages of their time at Meden School.
Below is information about our curriculum. Each drop down box contains the topics we cover. For more detail on the knowledge we teach, please click on each medium term plan. Our curriculum map shows the learning journey that our students embark upon.
Key Stage 3
Key Stage 4
Key Stage 5 (College)
KS3 & 4 Personal Development Curriculum Overview
Please click here for the KS3 Personal Development Curriculum Overview
Please click here for the KS4 Personal Development Curriculum Overview
Please click here for more details on our Destinations Curriculum Overview
KS3 & KS4 Financial Education
KS5 College Personal Development Curriculum Overview
Please click here for the KS5 college Personal Development Curriculum Overview
Big Conversation Sessions
Our Big Conversation sessions are planned 6 times a year, one each half term. They give our students the opportunity to discuss and debate areas of our personal development curriculum in depth, promoting the development of oracy skills. Our students asked for more discussion opportunities through our student forums. The following areas are planned as foci for the Big Conversation sessions in 2023/24:
Are words weapons? (Term 1)
What do kind, polite and responsible mean? (Term 2)
Misogyny and Sexism (Term 3)
Small boats (Term 4)
Animal Rights (Term 5)
Pressure (Term 6)
Assemblies at Meden
At Meden assemblies provide us with a fantastic opportunity to build a strong sense of community. They help us reinforce our ethos, our values and our mission statement. We also use our assemblies to complement and emphasise our personal development curriculum.
Click here of our assembly rota and topics covered
At Meden we have redesigned our traditional assemblies to become talk assemblies, where students explore their thinking and ideas around important topics . We don't want our students to sit there listening in silence, we want to involve them. We use assemblies to engage our students in key oracy concepts.
Below is what goes into a talk assembly at Meden: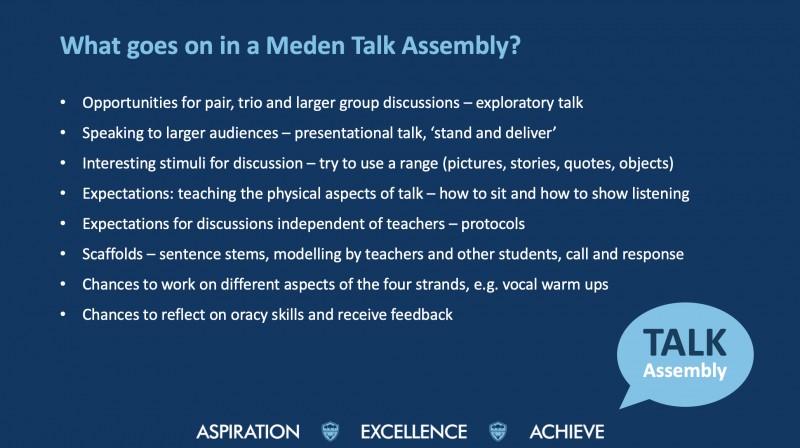 December 2023
| M | T | W | T | F | WE |
| --- | --- | --- | --- | --- | --- |
| | | | | 1 | 2 |
| 4 | 5 | 6 | 7 | 8 | 9 |
| 11 | 12 | 13 | 14 | 15 | 16 |
| 18 | 19 | 20 | 21 | 22 | 23 |
| 25 | 26 | 27 | 28 | 29 | 30 |