Canteen
Canteen
The school canteen usually offers a wide variety of different choices to the students, whether they are wanting a full hot meal or just a snack, we always have something tasty on the menu.
Our canteen facilities is offered by ASPENS SERVICES a leading catering company who specialise is school food.
For more information about Aspens Services, you can visit their website www.aspens-services.co.uk
How does the canteen system work?
Meden uses the SQUID account system to top up and purchase food in school. Once your child enrols in school they will be allocated a SQUID membership number and this will allow you to set up an online account. By logging on to your account you can top up the amount on your child's account and also view their purchases. If your child previously had a SQUID account at another school it may be possible to merge the account. All instructions are contained on the letter you will receive once the SQUID account is set up.
Students are identified when placing their finger on to the special reader at point of pay. They can top up their account in school on one of the top up machines or you can do this online.
Free School Meals
Children who are eligible for Free meals receive a daily allowance on their account, currently £2.40. This amount can only be spent on that day and is only available at lunch. If your child wishes to purchase items at breaktime then you should top up the account accordingly. If your child is new to the school the free meal information can take a few days and if you are moving from outside of Nottinghamshire you will have to reapply.
If you think you are eligible for free meals then please contact 0300 500 80 80 to apply.
Current Menus
Main Menus rotate on a 3 week cycle - dates are included below. There are other options for children to purchase in addition to the main meals. A price list and meal deal poster is included below.
Please note the columns represent the days of the week as follows:
Mondays - American Diner
Tuesdays - Mezze Mix up
Wednesdays - Home Style
Thursdays - Caribbean Fusion
Fridays - John Dory
      Week 1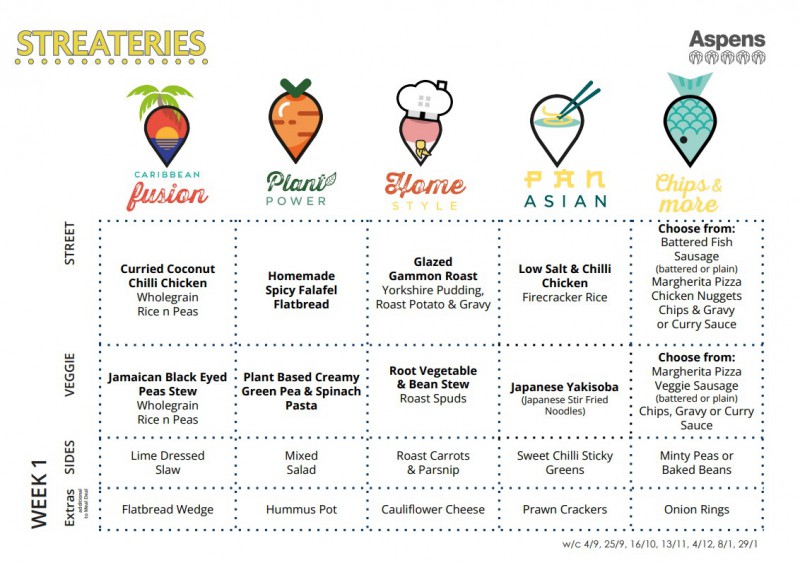 This menu is for weeks beginning on the following dates
04-09-2023
25-09-2023
16-10-2023
13-11-2023
04-12-2023
08-01-2024
29-01-2024
    Week 2 
This menu is for weeks beginning on the following dates
11-09-2023
02-10-2023
23-10-2023
20-11-2023
11-12-2023
15-01-2024
05-02-2024
    Week 3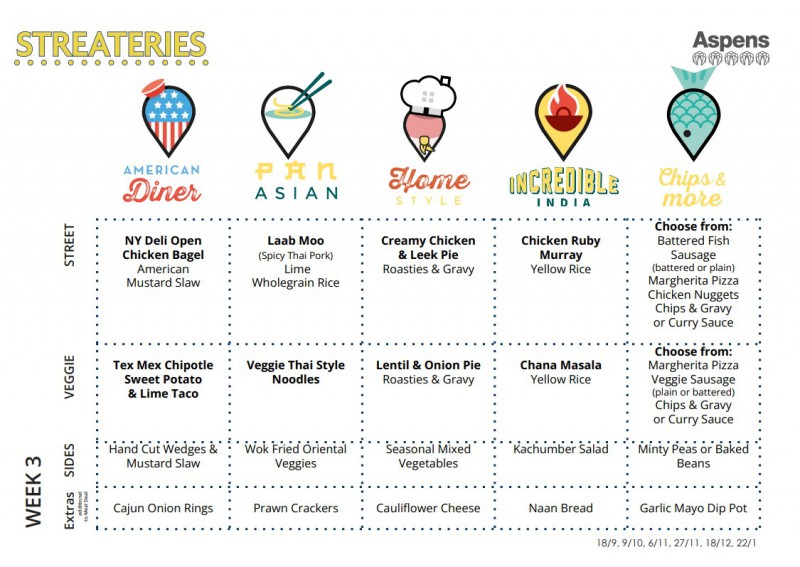 This menu is for weeks beginning on the following dates
18-09-2023
09-10-2023
06-11-2023
27-11-2023
18-12-2023
22-01-2024
MEAL DEALS
To help students get more for their money we offer a number of Meden Meal Deals. - click image to enlarge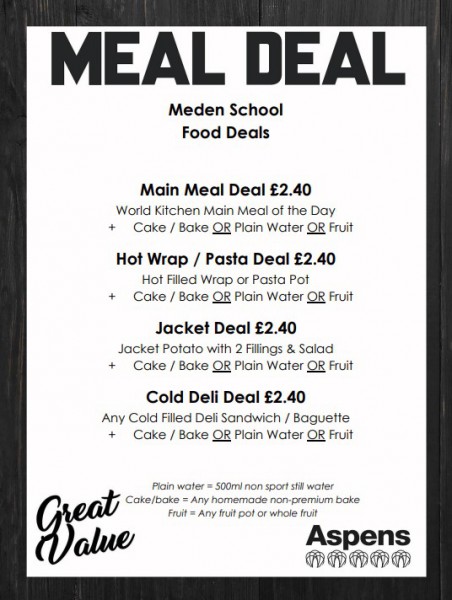 Meden School Price List - click to enlarge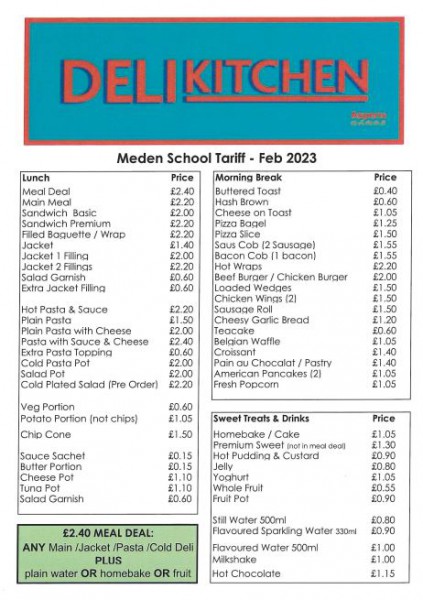 December 2023
| M | T | W | T | F | WE |
| --- | --- | --- | --- | --- | --- |
| | | | | 1 | 2 |
| 4 | 5 | 6 | 7 | 8 | 9 |
| 11 | 12 | 13 | 14 | 15 | 16 |
| 18 | 19 | 20 | 21 | 22 | 23 |
| 25 | 26 | 27 | 28 | 29 | 30 |