Student Wellbeing
Student Wellbeing
Introduction
Meden School is committed to safeguarding and protecting all students in our care. We aim to create an environment where students feel valued, listened to and safe in order to fully promote their self-esteem. At Meden School all staff will seek to support students, not just academically, but as individuals, so that they are empowered to positively engage with society when they leave Meden School.
Staff are alert to possible risks and clear procedures are in place for dealing with expressions of concern.
When they join Meden School, students will be placed in a tutor group. Tutors meet their groups daily. The tutor is responsible for the day-to-day care of your child and, therefore, is the first link between parents and school. Parents are encouraged to let the tutor know of any issues affecting the behaviour, progress or well-being of their children.
Arrangements for the year group are overseen by the Head of Year who also provides advice and support for students and staff and act as a point of contact for parents. Heads of Year will often invite parents into school to discuss issues about your child and, of course, you are welcome to visit the school at any time.
The Behaviour Team (Mr Harris, Mrs Rogers, Miss Hibbert) deal with any instances of behaviour in school and so they would be your first point of contact in this instance.
Nottinghamshire Healthcare Healthy Family Teams
As part of our health services, Notts Healthcare's Healthy Family Teams provide advice and support to teenagers and young people across Nottinghamshire county.
There are two services that they provide.
ChatHealth
Health for Teens website.
ChatHealth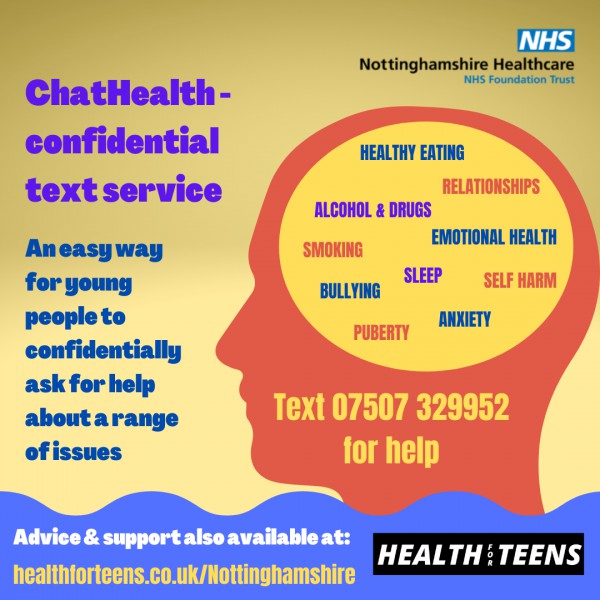 This is a confidential text messaging service available to young people aged 11-19 years which aims to offer a flexible way to get confidential support.
Advice is offered on a range of issues such as bullying, emotional health and wellbeing, and sexual health as well as illnesses. Messages will be responded to by the Healthy Family Team within one working day.
You can also use ChatHealth to find out how to access other local services including emotional support or sexual health services.
The text number is
07507 329952
Health for Teens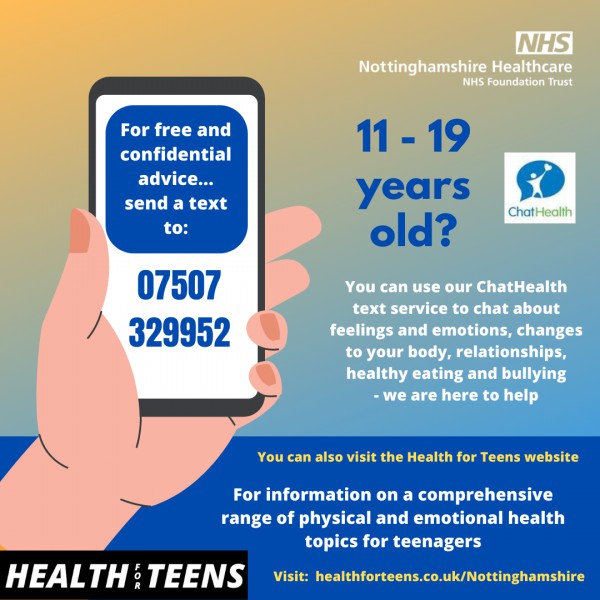 Health for Teens is a website which offers health and wellbeing advice and information to young people aged 11-19 years, promoting a healthy body and mind. It offers a new and different way for young people to learn about their health.
It also has a dedicated Nottinghamshire section which provides more localised support and details of services in the county.
Please visit the website at: https://www.healthforteens.co.uk/nottinghamshire/
SERVICES PROVIDED BY NOTTINGHAMSHIRE HEALTHCARE NHS FOUNDATION TRUST
December 2023
| M | T | W | T | F | WE |
| --- | --- | --- | --- | --- | --- |
| | | | | 1 | 2 |
| 4 | 5 | 6 | 7 | 8 | 9 |
| 11 | 12 | 13 | 14 | 15 | 16 |
| 18 | 19 | 20 | 21 | 22 | 23 |
| 25 | 26 | 27 | 28 | 29 | 30 |