Welcome to Music
Music
"Music is life itself" Louis Armstrong.
"Music is a moral law. It gives soul to the universe, wings to the mind, and life to everything…Without music, life would be an error." Plato
Music is a meaningful subject for all to learn regardless of whether you are a gifted musician or have never studied music before. Music is an intrinsic part of our culture and has many benefits such as connecting the left and right side of our brains, developing fine motor skills and creating musical memories.
Music has deep links with Mathematics, English, Science and Foreign Languages and provides pupils with a creative art form to express themselves. Pupils will learn to play instruments, read musical notation, form bands, listen thoughtfully and create their own music.
The curriculum has been designed to enable pupils to experience music not only of their own
culture but from other cultures and from different periods throughout history, inspiring the next generation of musicians.
Curriculum Map for Music KS3 & KS4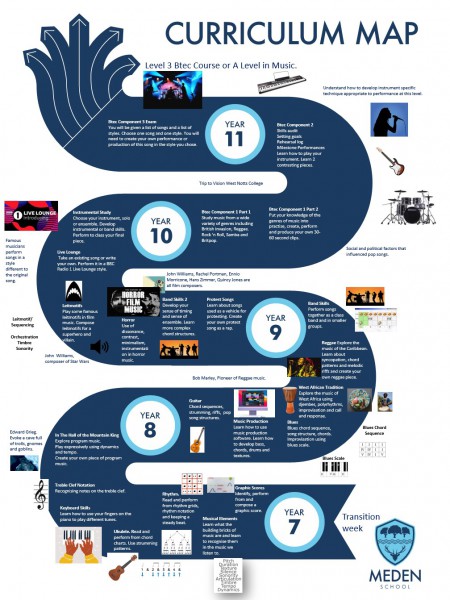 December 2023
| M | T | W | T | F | WE |
| --- | --- | --- | --- | --- | --- |
| | | | | 1 | 2 |
| 4 | 5 | 6 | 7 | 8 | 9 |
| 11 | 12 | 13 | 14 | 15 | 16 |
| 18 | 19 | 20 | 21 | 22 | 23 |
| 25 | 26 | 27 | 28 | 29 | 30 |