KS5
KS5
The A Level course enables students to develop useful skills in problem solving, decision-making and critical analysis that will help in higher education or a career. Quantitative skills count for a minimum of 10% of the overall assessment and students develop a financial awareness that will help prepare them for any future career.
A-level assessment
A-level assessment consists of three x 2 hour written exams taken at the end of the two-year course. Each exam will be worth a third of the A-level. All three papers will draw on material from the whole course, and will feature a range of question styles including multiple choice questions, short answer questions, essay questions, data response questions and case studies.
Below is more detailed information about our KS5 curriculum. Each drop down box contains the topics we cover. For more detail on the knowledge we teach, please click on each medium term plan. Our curriculum map shows the learning journey that our students embark upon.
Content coming soon.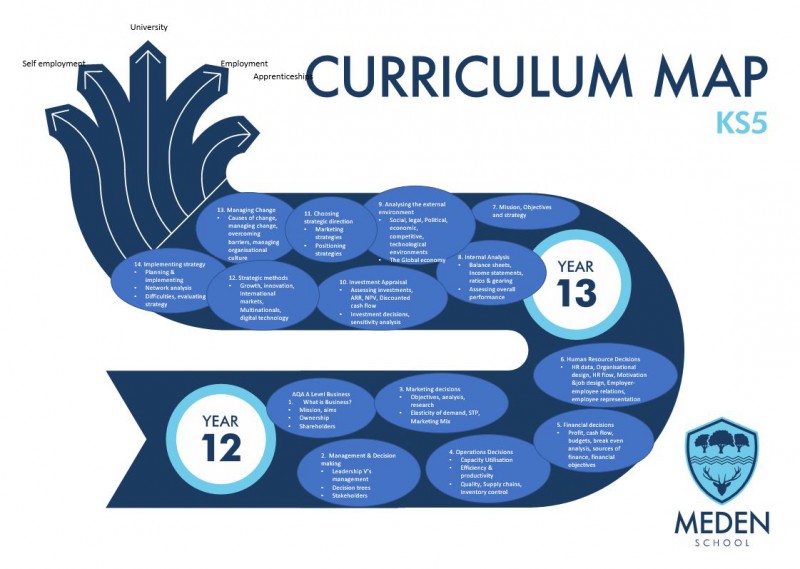 August 2022
| M | T | W | T | F | WE |
| --- | --- | --- | --- | --- | --- |
| 1 | 2 | 3 | 4 | 5 | 6 |
| 8 | 9 | 10 | 11 | 12 | 13 |
| 15 | 16 | 17 | 18 | 19 | 20 |
| 22 | 23 | 24 | 25 | 26 | 27 |
| 29 | 30 | 31 | | | |