Latest News
Latest News
Meden Superbike Racing Star joins Rich Energy 151 Team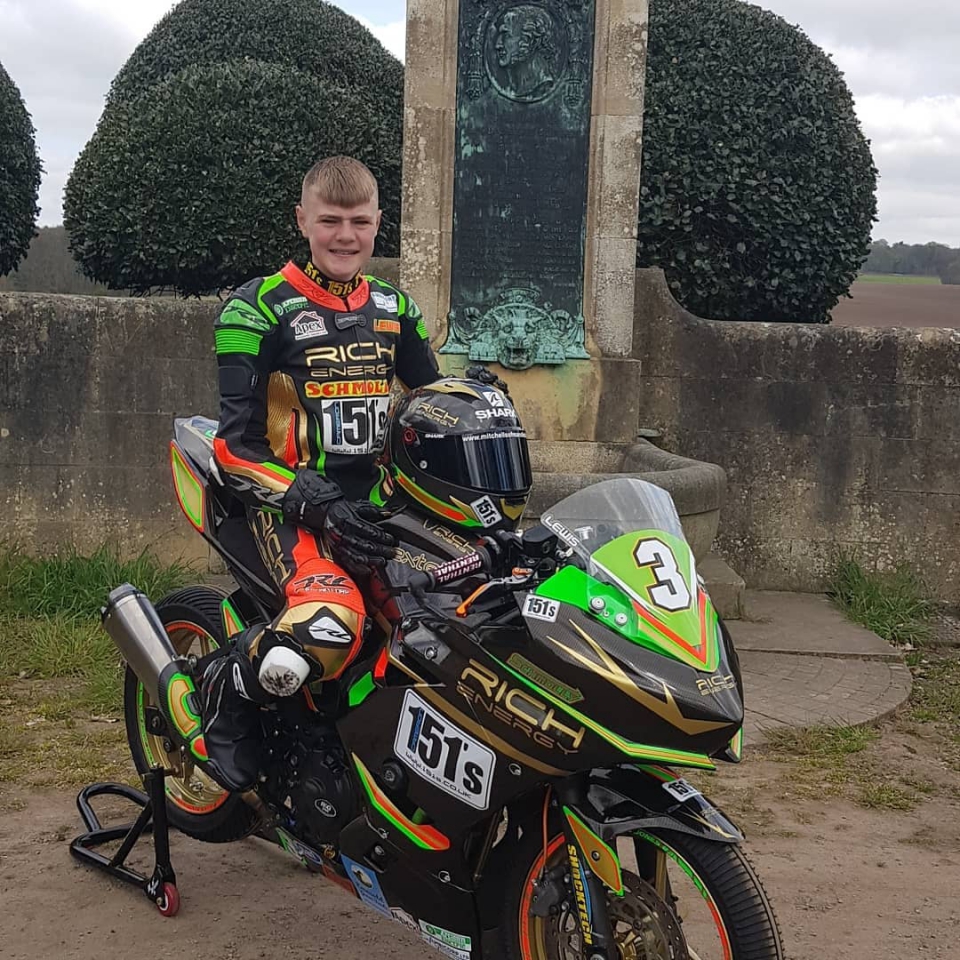 Lewis Jones Y11 received a special birthday present this year by being signed up to RICH Energy's 151 superbike racing team.
He started his racing career at the age of 12 having attended hundreds of events with his dad, Bryn and his skills on the bike were clear right from the start. Currently ranking about 5th in the country in his age group, Lewis is completely dedicated to the sport and stands a good change of winning this season. He spends much of his spare time training for racing; hours of spinning, weight lifting and working on his core. Lewis described to me just how important it was to develop stamina. It isn't just a case of jumping on a bike and driving off, especially when you are handling the bigger, heavier bikes. It takes a lot od dedication.
Supported by his sponsors and his dad Bryn, Lewis has been fortunate to be spotted by RICH Energy, a global energy drink company who support the junior superbike racing and who have signed his this season following his 16th Birthday. This is a massive achievement!
Lewis is a very humble young man who doesn't like to boast about his successes but his passion for the sport is evident as he talked openly to me about his experiences. He described how grateful he was to RICH energy and to all of his sponsors, without whom he just wouldn't be able to race. "Its an expensive sport" explained Dad Bryn. "There isn't the funding available in bike racing that there is for other sports like football, tennis or golf which is a shame" So Lewis relies on the backing of sponsors who help towards the costs of his racing supporting with everything from providing his leathers to supplying oil.
Lewis clearly has a natural talent when it come to motorbike racing and has won many of his races. One of the highlights was during his debut on the club racing scene at Brands Hatch in 2019 when he won all four races that weekend! He really is a true inspiration!
As you can imagine his family and friends re very proud of Lewis. Dad explains his nervousness on the run up to his racing and not being able to watch "his most precious thing" racing at high speeds
I asked Lewis what was it about racing that he enjoyed the most and he replied "riding in to the corners at over 100 mph is such a thrill!"
Lewis has been given special leave this week to race in the superbike test days and has been racing all weekend in horrendous weather. Despite the rain and the wind he still managed 3 podiums and a 5th place finish. The highlight of the week will be the trip to Oulton Park in Cheshire for the Bemsee British Championships this Friday and Saturday, where we will all be rooting for you!
Good luck Lewis!
October 2021
| M | T | W | T | F | WE |
| --- | --- | --- | --- | --- | --- |
| | | | | 1 | 2 |
| 4 | 5 | 6 | 7 | 8 | 9 |
| 11 | 12 | 13 | 14 | 15 | 16 |
| 18 | 19 | 20 | 21 | 22 | 23 |
| 25 | 26 | 27 | 28 | 29 | 30 |